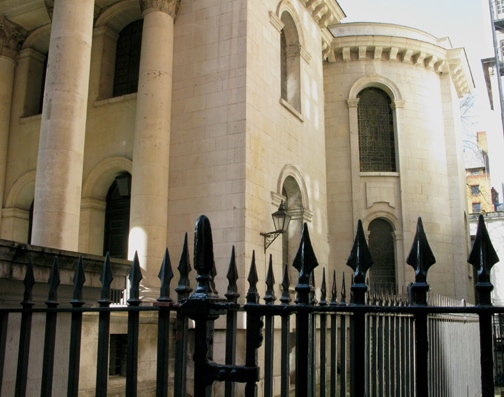 Photo by Robert Goldstein
St George's Church, Bloomsbury was one of twelve new churches designed and paid for under the 1711 Act of Parliament, and was the sixth and final London church designed by the leading architect of English Baroque, Nicholas Hawksmoor.
The land on which the Church is built (The Ploughyard) was bought for £1000 from Lady Russell – widow of the Whig rebel Lord John Russell, who had been executed in 1683. St George's was consecrated on 28th January 1730 by Edmund Gibson, Bishop of London.
During the 19th century St George's was particularly active in the Church of England's 'civilising mission' providing help such as schools, a library and a soup kitchen for the local community.
The early 20th century saw St George's play an active role in both spiritual and secular affairs. In 1913 the church was the setting for the memorial service for Emily Davison, the suffragette who threw herself under the King's horse at the Derby. In 1937 St George's held a special service of remembrance for those killed during the Abyssinian War – this service being attended by Emperor Haile Selassie.
From 1956 – 1968 St George's served as the University of London's church, with the Rector as Senior Chaplain. After its association with the University ended, St George's struggled to establish a clear role for itself within the local community and fell into disrepair. However during the 1990s attempts to restore the building came to the attention of the World Monuments Fund whose subsequent adoption of the restoration of St George's as a major project was the crucial first step towards the successfully restored church we see today.